Faculty of Philosophy
Pre- and Protohistory
Pre- and Protohistory is an archaeological discipline that (re)constructs social, cultural and historical processes by using material culture as a unique source of information about past societies, from the first appearance of humans to the most recent past.
Pre- and Protohistory is an archaeological discipline within the field of cultural studies. It uses material evidence (cf. artefacts, settlements, burials) as a basis for research into the culture, environment, economy, settlement patterns and social structures of early human populations, as well as into art, customs and religion. Archaeological research questions clearly fall within the realm of cultural studies, but have strong links to other disciplines from the natural and social sciences. Research is concerned with the analysis and reconstruction of historical processes and their transformation beyond the information gained from possibly available written sources.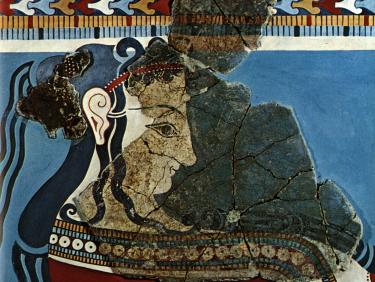 Special Features and Characteristics
The Heidelberg Institute has a long tradition of research of the Eastern Mediterranean Bronze Age and, in particular, of Mycenaean Greece. A second focus concerns Central and Western Europe between late Antiquity and the High Middle Ages. 
Teaching and learning, offered in collaboration with the Institute of Earth Sciences, draw on approaches from the field of cultural studies and use methods from the natural sciences to determine the date and origin of materials. Practical teaching focusses on the techniques and methods involved in archaeological excavation and surveying. The Institute cooperates with numerous monument preservation institutions in the surrounding federal states, and with the German Archaeological Institute (Deutsches Archäologisches Institut, DAI) as well as partners abroad.
The Institute boasts an extremely well stocked library with literature focussing on the regions of Eastern Central Europe, Southeastern Europe and the Eastern Mediterranean in the Neolithic period and the Bronze Age. The library also holds significant literature resources on methodical and theoretical approaches.
Research at the Institute in Heidelberg focusses on Later Prehistory (from the Neolithic to the Iron Age) in Central and Southeastern Europe as well as the East Mediterranean. Research questions in particular relate to Aegean Archaeology (from the beginning of the Neolithic period to the Minoan and Mycenaean civilisations) and settlement archaeology. Research and teaching also include Late Antiquity and the High Middle Ages in Central and Western Europe. Field research is carried out in Greece and Southwestern Germany.
Graduates of a degree programme in Pre- and Protohistory may pursue a career in a number of fields. The majority of graduates will find employment in federal antiquity services, museums , and increasingly, in commercial archaeology (private archaeological contracting services ). In addition, graduates go on to conduct disciplinary or interdisciplinary research, teach in the university sector, or find employment in education, administration or public relations.
Pre- and protohistory unites theory and practice in a unique way. Practical aspects include participating in digs during the academic programme. And Heidelberg has a wonderful archaeological site in Tiryns in Greece.
Olga Kostyukova, 22, Prehistory and Protohistory, 4th semester Bachelor