Faculty of Biosciences
Molecular Biosciences
The Molecular Biosciences degree programme provides students with an opportunity to continue their academic careers in their chosen field of Biosciences.
Within the Molecular Biosciences programme, the following subjects may be chosen as majors:
Neuroscience 
Molecular and Cellular Biology 
Cancer Biology 
Infectious Diseases 
Developmental and Stem Cell Biology 
Molecular and Applied Plant Sciences 
Systems Biology 
Each major is designed to provide a comprehensive, yet focused, education in the most exciting fields of modern biological research.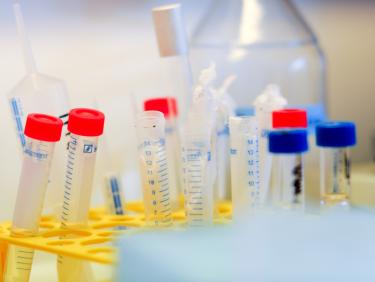 Special Features and Characteristics
Heidelberg University is renowned for its concentration of world-class biological research laboratories, all of which are open to students. Instructors from the Faculty of Biosciences, most of whom work and teach in the Bioquant, BZH, Center for Infectious Diseases, COS, DKFZ, IPMB, IZN or ZMBH, stand ready to welcome and guide new students as prospective members of our research community.
Each major subject within the Master's degree programme represents a special area of research at Heidelberg University:
Cancer Biology 
Developmental and Stem Cell Biology 
Infectious Diseases 
Molecular and Cellular Biology 
Molecular Plant Sciences 
Neuroscience 
Systems Biology 
Molecular biologists typically pursue careers
in research institutes, e.g. for natural sciences or medicine 
at universities  
in the chemical and pharmaceutical industry 
in environmental agencies 
I first became interested in biology at school. What I like about the MA programme here in Heidelberg is the strong focus on molecular biology, the diversity of departments that you can choose from, the practical lab work that I really enjoy and the confrontation with scientific approaches to solving problems.
Hannah Walter, 25, Molecular Biosciences, 5th semester Master
Further Interesting Subjects