Medical Faculty Heidelberg
Interprofessional Health Care
This degree programme enables students to combine professional training with study. Students of interprofessional healthcare supplement their professional knowledge with academic insights. Students thereby learn to think and act across healthcare occupations and so ensure the best possible patient care in today's complex healthcare system.
Students of Interprofessional healthcare combine training in their chosen healthcare role (nursing, with specialisation in acute inpatient care, paediatric care, long-term inpatient care/geriatric care, physiotherapy, speech and language therapy, laboratory assistance, radiology assistance, orthoptics) with study of key academic underpinnings. The degree programme is intended for those who wish to acquire scientific knowledge relevant to healthcare, develop practical skills and critical judgement skills across occupations in the healthcare system. These skills ensure that the healthcare system is operated in a patient-orientated and efficient manner.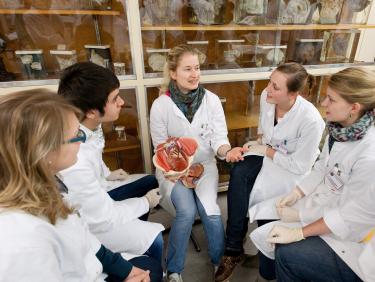 Special Features and Characteristics
Two degrees: The degree programme is run by the Medical Faculty at Heidelberg University in cooperation with the Akademie für Gesundheitsberufe GmbH and the physiotherapy school at the University of Mannheim. Graduates of the programme therefore receive a recognised Bachelor of Science degree, which qualifies them for employment in the particular healthcare profession. As well as combining theory and practice, the degree programme offers interprofessional lectures and courses. Students therefore learn together, from each other and about one another. Some lectures and courses are also taken with other students from medicine and/or dentistry. This promotes communication and future collaboration amongst healthcare professionals for the good of the patient.  
Applicants for the degree programme must have a place in a cooperating training college. Students who have successfully completed a 3-year vocational training course in a healthcare profession, can transfer directly to the sixth semester. Students may continue to work in a 30% position during their degree programme. If for professional or personal reasons, students require greater flexibility during the degree programme, they have the opportunity to transfer into the part-time programme.
There is a growing need for specific issues relating to healthcare professions to be explored from an academic perspective, whilst the increase in degree programmes specifically for healthcare professions means that research in this relatively young field is rapidly increasing. Research at Heidelberg University currently focusses on questions relating to clinical provision (use and effectiveness of specific interventions), actual and future allocation of tasks within healthcare professions (transfer of medical tasks as well as cooperation across professions). A particular focus is placed on the development of instruments for the evaluation of interprofessional competencies in teaching and service provision.
The degree programme qualifies students to pursue a profession in healthcare, or to continue in academia. The degree programme qualifies students for a number of different roles in their chosen clinical profession (practices, ambulatory services, inpatient care, prevention and rehabilitation). In addition, graduates may benefit from short- and medium-term professional opportunities to manage complex processes in the field of patient care, research and quality improvements, as well as interprofessional cooperation. Graduates' academic competencies mean they are able to conduct adequate research as part of a professional role in the healthcare system. Graduates may go on to complete a Master's degree, and even undertake doctoral study.
For quality care in the health system, it is essential to have clearly structured relationships. Appreciation, team work and transparently communicated responsibilities – that is what I am studying and experiencing on the bachelor programme Interprofessional Health Care.
Susanne Mayer, 24, Interprofessional Healthcare, 8th semester Bachelor
Further Interesting Subjects