Medical Faculty Heidelberg
Health Services Research and Implementation Science in Health Systems
The overall aim of the degree programme Health Services Research and Implementation Science is to provide students with a solid foundation in health services research and implementation science principles. They will also acquire competency in using tools and methods to plan and implement effective trials in an efficient, sustainable and responsible way.
Health Care Research and Implementation Science are relatively young and interdisciplinary disciplines, their subject is the medical and health care. Health Care Research investigates it under everyday life conditions and aims at improving it, e.g. by implementing new care models and their evaluation. Implementation Science focusses on the transfer of research results to clinical, administrative and political contexts of health care.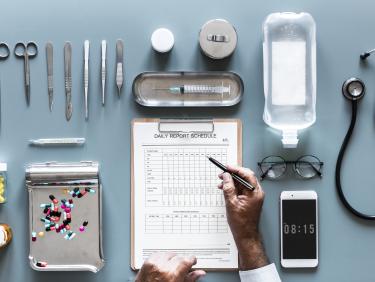 Special Features and Characteristics
This Master's degree programme is the first of its kind in Germany with a specialisation in Health Care Research and Implementation Science. At the heart of this programme design is the conviction that the German health care system not only needs good health care providers but also more and more experts who know how to recognise health care problems and how to tackle these based on scientific knowledge and methodology. 
The degree programme forms part of one of the biggest and liveliest institutes for health care research in Germany. It is research-oriented but at the same time distinguished by a strong practical and application orientation. 
Being a degree programme of the Medical Faculty Heidelberg, it offers numerous possibilities to gain insights into practice and research of health care, e.g. during internships, projects and final theses. 
20 places are available each year.
Current research and teaching fields of the department general medicine and health care research include: 
Equity and migration in health care systems 
Innovative care models in general medicine 
Interprofessional collaboration 
Implementation Science and Promotion of Quality 
Patient and User Perspectives 
Care and Therapy Science
The Master's degree programme links an in-depth scientific qualification in health care research and implementation science with general analytical-methodical competencies. The competencies gained during the course of study qualify graduates for a broad range of career options in health care, in science, politics, companies, associations and administration.  
Typical fields of work are: 
Organisation in health care (e.g. medical associations, professional societies, health insurance organisations, self-help groups, pharmaceutical companies) 
Health care politics (e.g. health authorities, ministries) 
Health care provision (e.g. hospital administration) 
Science and research.
I chose health care research in order to generate research-oriented solutions for existing challenges in health care and to contribute to the further development in health care provision.
Anna Stürmlinger, 25, Health care research and implementation science, 3rd semester Master