Faculty of Philosophy
German-French Master's Degree in History (Heidelberg and Paris)
The German-French Master's Degree in History (Heidelberg and Paris) is a research-oriented, international degree programme that provides students with the opportunity to gain a fully valid double degree from two of the most renowned research institutions for history in France and Germany.
The two-year master's degree programme is organised in cooperation between Heidelberg University's Department of History and the Mention Histoire of the École des Hautes Études en Sciences Sociales, a prestigious elite higher education institution for social sciences in Paris. The academic programme combines the distinctive teaching and research traditions of both institutions to provide students with a binational, integrated degree programme that is characterised by the intensive orientation towards research on a long-term individual project, methodical reflection and excellent academic supervision. 
The main focus of the MA programme is to pursue an individual research project. Students will be supported by a supervisor in Heidelberg and one in Paris. The degree programme is interdisciplinary and integrates all periods and regional prioritisations.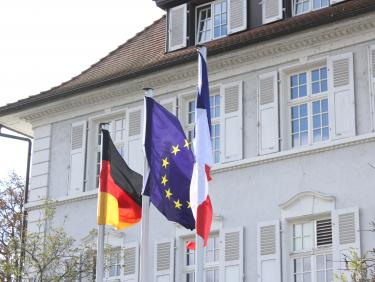 Special Features and Characteristics
Degree consists of fully valid double diploma and certificate of excellence from the Franco-German University (FGU) 
Individual two-year research project 
Intensive academic supervision (tuteur system) 
Own courses developed for the programme 
Mandatory internship in the context of the dissemination and practise module 
Opportunity to take courses at other renowned institutions of higher education in Paris (École normale supérieure, École des Chartes, etc.) 
Mobility assistance granted by the FGU totalling EUR 300 per month for the period spent abroad as well as financial support for language courses. 
Opportunity to apply for admission to the integrated doctoral programme following graduation from the MA programme. 
The academic programme, which was established in 2008, is an established programme in the Franco-German University's promotion network and combines dynamic developments with long-standing experience in French-German academic cooperation. In 2012, an independent and structured doctoral programme was established that enables graduates of the Master's programme as well as transfer students to complete a binational doctorate (PhD track).
The Department of History encompasses ten professorships for medieval, modern and contemporary history. It cooperates closely with the Department of Ancient History and Epigraphy, the Heidelberg College for Jewish Studies and the South Asia Institute. In addition, the department is very involved in two special fields of collaborative research in Heidelberg: the Heidelberg Centre for Transcultural Studies (HCTS) and special research area 933 'material text culture'. 
One focus exists in the area of how history is taught and the societal relevance of history with research units for history and cultural heritage, and for antiziganism research as well as a professorship for applied history (public history). 
The Mention Histoire (Department of History) of the EHESS is dedicated to historical research and is closely linked to approaches from social and cultural studies. The academic programme is characterised by teaching formats consisting of seminars with small numbers of participants and direct links to research. Founding figures, such as Fernand Braudel or Jacques Le Goff, have had a lasting impact on research into history at the EHESS. Even today, there are influential and innovative French historians among the professors. Researchers work in centres, groupes and equipes and often cooperate closely with other research units such as the CNRS.  
The degree programme prepares students for an international career in science and research as well as for the requirements of the international job market. The graduates of the MA programme predominantly aspire to complete their doctorates but also pursue successful non-scientific careers. Thanks to its commitment and far-reaching international network, the programme's alumni association, which was founded in 2017, promotes contact among graduates who work in a variety of fields, e.g., in journalism, business, at foundations or in publishing. 
The Master's programme systematically supports the students in their career starts by offering professional practice oriented guest lectures in the context of the bi-annual 'Atelier', through integration of a mandatory internship as well as with the offerings of the Department of History's career service.
I wanted to study in France during my Master's programme – and not only as part of an Erasmus initiative. The programme is extremely interdisciplinary, challenging and is characterised by the strong mentoring and support system. The bi-annual Ateliers are a highlight of the programme as they enable not only scientific but also personal exchange between the participants.
Max Derrien, 25, German-French Master's degree programme in History 3rd semester