Faculty of Modern Languages
French/Transcultural Studies. Literature and language contact within the francophone area
Degree programmes in Romance studies consider Romance languages, literature and cultures. The study of French focusses more particularly, on languages, literature and cultures in the French-speaking world.
Romance studies covers research and teaching across Romance languages, literature and cultures. The most significant Romance languages, which all derive from Latin, include French, Spanish, Italian, Portuguese, Romanian, Occitan, Catalan, Gaelic, Sardinian and Rhaeto-Romanic. Variants of these Romance languages, literatures and cultures are also found outside Europe, in parts of Latin America, Canada, North and South Africa. 
Degree courses in French encompass areas of French language, literature and cultural studies. In addition to content in these three areas, students attend language sessions which are taught exclusively by native speakers.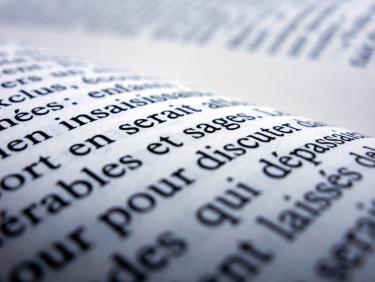 Special Features and Characteristics
Heidelberg University has ERASMUS agreements with seven universities in France, a cooperation agreement with the Université Paul Valéry Montpellier 3; and also runs a student and teacher exchange programme with the École Normale Supérieure in Lyon. 
internal and external links with different research centres, for example the European Linguistics Centre (Europäischen Zentrum für Sprachwissenschaften, EZS) 
numerous international research contacts, for example in the field of linguistics, with PRAXILING-UMR 5267 CNRS 
specific formats for teaching sessions  
Research in Heidelberg is conducted in the fields of linguistics or literary studies. 
The main research interests in linguistics are: 
language history, language change and language contact with relevance to French 
synchronised and diachronic analyses of syntax, semantics and morphology 
variational linguistics  
historical sociolinguistics and pragmatics, discourse linguistics 
language standardisation and language criticism 
Dictionary projects conducted by the Heidelberg Academy of Sciences and Humanities for the dictionary of old French (Dictionnaire Étymologique de l'Ancien Français, DEAF) and old Gascon (Dictionnaire Onomasiologique de l'Ancien Gascon, DAG). 
Literary studies are anthropological, poetical and comparative in their approach. Primary research interests include: 
theatre in the Classical period and the Enlightenment 
Realism and Naturalism in narrative prose 
Modern poetry 
Rousseau and the French Enlightenment 
poetry in the nineteenth century. 
Gustave Flaubert 
Georges Bataille 
Maurice Blanchot 
literary theory 
hermeneutics and deconstruction 
transgressions between literature and philosophy 
psychoanalysis and literature 
figurative insight
Graduates of a degree programme in French may pursue a career in the following fields:  
teaching (German secondary school - Gymnasium) 
training and consulting institutions 
universities and research institutes 
media 
communications and translation 
publishing 
tourism 
and other fields in which knowledge of French language, literature and culture is of benefit.

I have always been interested in Romance languages and in particular in the linguistic and cultural diversity of the areas in which Romance languages are spoken. I was attracted to the new Master's degree programme at Heidelberg University due to its interdisciplinary orientation, the high academic quality and the opportunity to learn a second Romance language, such as Catalan. The academic programme focuses on contact phenomena in the fields of linguistics, cultural and literary studies as well as transcultural processes.
Tuba Bozkurt, 23, French/Transcultural Studies, 2nd semester Master
Further Interesting Subjects