Faculty of Philosophy
Development, Environment, Societies, and History in South Asia
Students in the academic programme Development, Environment, Societies, and History in South Asia focus on historical, societal and current political and economic developments and events, as well as physiogeographical processes, in the countries of South-East Asia: Afghanistan, Bangladesh, Bhutan, India, the Maldives, Nepal, Pakistan, Sri Lanka as well as Tibet and the regions surrounding the Himalayas.
A central component of the degree programme is to familiarise the students with multi- and interdisciplinary approaches right from the beginning and to enable them to independently and critically work in multicultural environments. To this end, the students select at least one area of specialisation in which they acquire advanced scientific expertise that will then be applied during completion of the Master's thesis.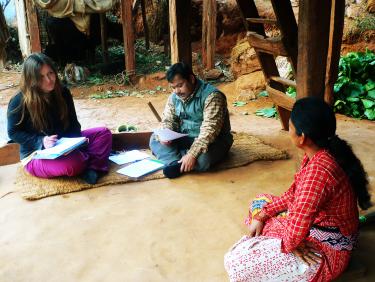 Special Features and Characteristics
The academic programme consists of the subjects development economy, anthropology, history, geography, art history and media technology as well as political science. These subjects are taught at the South Asia Institute (SAI) and the Heidelberg Centre for Transcultural Studies. In addition, the governments of India, Pakistan and Sri Lanka have nominated three guest professors who will complement and enrich the range of courses. The library has one of the world's most extensive collections of literature related to South-East Asia.  
A highlight of the degree programme is the student conference that takes place each summer semester. The aim of the project is to provide students with a practical introduction to scientific practice and various presentation techniques: programme development, project management, moderation, giving lectures, creating posters and writing contributions. 
Students who are interested in learning one of eleven South-East Asian languages offered at the university (Bengali, Dari, Hindi, classical Tibetan, Nepali, Pali, Sanskrit, Singhalese, Tamil, Tibetan colloquial language and Urdu) can do so by enrolling for a minor subject in the Master's in order to tailor their academic programme more strongly and individually to a region of South-East Asia. 
The South Asia Institute has an exchange programme with numerous top universities in South-East Asia as well as with European universities that offer a South Asia specialisation in the context of the ERASMUS programme. These include, among others, Edinburgh, Florence, Kaunas, Leiden, Oslo, Paris, Torún, Trieste, Warsaw, Vienna and Vilnius. The exchange programmes provide students with additional opportunities to deepen their knowledge in a global setting. 
The department regularly offers summer schools for a variety of South Asian languages and also cooperates with other summer schools in Germany.
The South Asia Institute in Heidelberg is Europe's leading centre for South Asian studies and has an active international research network. The department and its branches in New Delhi (India), Kathmandu (Nepal) and Colombo (Sri Lanka) are the ideal platform for applied interdisciplinary learning and research activities.  
Academics in the department have been studying the countries of South Asia since 1962. The department-specific research foci include among others:  
growth and development 
medical anthropology 
high mountain research 
geographical development research 
political ecology 
land use systems (including GIS and interpretation of satellite images) 
modern history from approx. 1500 to today 
gender research 
comparative political science 
international relations in South Asia 
governance 
visual representations, art history in South Asia, iconography, urbanisation, transcultural art production and international migration 
The degree programme is research-oriented and enables students to enroll in a doctoral programme in the selected area of specialisation. Graduates can also find work in the following areas: 
non-university research 
universities 
documentation 
archives 
libraries 
international communication 
diversity management 
public relations 
foundations 
NGOs 
international organisations 
media 
museums 
exhibitions 
adult education and tourism 
I initially studied German as a Foreign Language and Anthropology. I was particularly interested in learning about India as part of my course. As my husband is from India, I wanted to learn his language – Tamil – and find out more about his country of origin. The MA programme in South Asian studies perfectly unites my interests.
Ronja Bauer, 26, Development, Environment, Societies, and History of South Asia, 2nd semester Master