Faculty of Modern Languages
Communication and Society in Ibero-America
The master's programme Communication and Society in Ibero-America focuses on the social dimensions of communication in the Ibero-American macro-region and its contact areas.
The master's programme at the Heidelberg Center for Ibero-American Studies (HCIAS) provides students with interdisciplinary perspectives and area-specific knowledge on issues that are especially relevant for Ibero-American societies. From different angles of the humanities and the social sciences, they approach social and communication dynamics
in political and economic spaces of the Ibero-American macro-region
with regard to Ibero-American cultures, peoples, and their natural environments
related to linguistic and socio-cognitive phenomena and the information society in Ibero-America
Students will strengthen their methodological, language, and communication skills and orient them toward a cross-cultural academic profile. The master's degree will provide students access to challenging fields of activity in research as well as outside academia.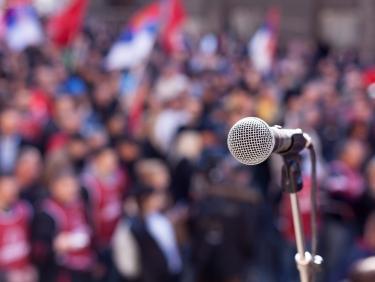 Special Features and Characteristics
Area Studies: Ibero-American Studies with a thematic focus on societal and communication dynamics
Interdisciplinarity: integration of different perspectives in specific course formats as a basis for interdisciplinary research and communication
Multi-perspective methodological toolkit: converging approaches from the humanities and social sciences
Multimodal learning environments: online, face-to-face, blended-learning, and co-teaching formats
International study setting: students benefit from multilingual teaching and learning (English and Spanish), international teaching staff and a stay abroad as an integrated part of the study program (mobility window)
Supporting structures: individual academic advice throughout the entire study program, especially when configuring the individual course of study and during the preparation and organization of the mobility window
Possibilities for academic networking: students benefit from the HCIAS's close cooperation with the Heidelberg Center Latin America in Santiago de Chile and with university partners across Ibero-America und build their own academic network
The content of the master's programme Communication and Society in Ibero-America is closely tied to the research at the Heidelberg Center for Ibero-American Studies (HCIAS), which is organised into three major focus areas under the guiding theme "Spaces and Dynamics":
Focus 1: Multiple Transformations and Social Cohesion
Focus 2: Globalization and Mobility of Cultural and Natural Heritage
Focus 3: Social and Cultural Communication: Migration and Contact
The blending of research and teaching enables a course of study oriented towards research questions on, in, and with Ibero-America. Students have the possibility to learn from and with researchers at the HCIAS and become involved in their research projects. Additionally, students focus their individual course of study and the mobility window abroad accordingly. The study programme concludes with a master's thesis which students prepare under the supervision of two mentors representing different knowledge areas. During its elaboration they have the opportunity to present and discuss their project outlines in a colloquium. The strong ties between the HCIAS and the Heidelberg Center Latin America in Santiago de Chile, as well as with other cooperation partners, enables the integration of further international researchers into the course offerings who provide additional insights into current research issues related to the topics of the study programme.
Graduates will have acquired expert knowledge of the Ibero-American macro-region and will be sensitive to the complex relationships between communication and society. Due to the thematic orientation of the course content and the integrated stay in a socio-culturally diverse region such as Ibero-America, graduates will have gained experience in international research contexts and insights into non-academic occupations. Graduates will thus be prepared for a variety of professional fields
in Institutions: international organisations, NGOs, cultural institutions, communication departments of public institutions, public services
in Academia: university and non-university research institutes
in the private sector: consulting agencies for political communication, public opinion research institutes, public relations, press and media