Faculty of Philosophy
Ancient History
Students in the Ancient History degree programme will study the ancient Greek and Roman cultures as well as the predominantly Christian period of late Antiquity (approximately 1,000 B.C.E. to 700 C.E.).
In terms of geography, this will include all regions that belonged to the Roman Empire, as well as the Near and Middle Eastern areas that came into contact with Greek culture. On the basis of existing written and material sources, students in the Ancient History degree programme will examine the political, societal, and cultural developments of the Greco-Roman world. This historical analysis will enable students to comprehend the origin and transformation of cultural thought patterns, including their impact on historical developments.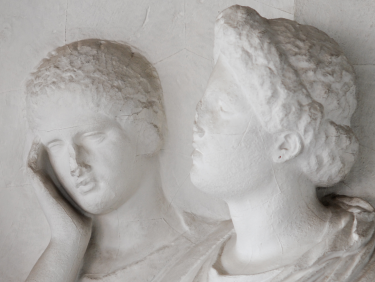 Special Features and Characteristics
Heidelberg University and the Centre for Ancient Studies are home to virtually all historical and ancient studies disciplines. This means that from the first day of their studies on, students are provided with an outstanding diversity of degree programmes and research opportunities. The libraries within the Heidelberg departments and institutes are among the finest collections to be found in Germany and beyond. This guarantees optimal working conditions and avoids costly and time-consuming inter-library loans.
A special traditional focus of Heidelberg's Department of Ancient History and Epigraphy is their work with the auxiliary disciplines of Ancient History, including epigraphy, papyrology, and numismatics.
Thanks to the department's numerous Erasmus partnerships, students can easily arrange international exchanges during the course of studies. Credits earned during international exchanges may be counted toward the total required for the degree at Heidelberg University.
The Department of Ancient History and Epigraphy participates in a wide array of international networks and works with major research organisations at Heidelberg University (for more information, please refer to the departmental website, which is continually updated).
Graduates of the Bachelor's degree programme in Ancient History are able to enrol in a subsequent Master's degree programme. This is a prerequisite for entry into an academic profession.
Beyond the relatively small number of academic careers, other professional options include working for cultural institutions, such as museums, or in tourism, scientific journalism, publishing houses or adult education.
In addition, the key qualifications students obtain during their studies, such as foreign language skills or analytical and presentation skills, allow graduates to pursue careers in a wide range of professional areas. Historians also find career opportunities in the areas of economics, public relations, personnel management, and in the service sector.
Early high cultures that clearly left their mark on our culture and continue to influence us today have always interested me.
Berglind Hatje, 19, Ancient History, 3rd semester Bachelor