Talks and events for new students
Talks and events for new students - winter semester 2022/2023
In the two weeks prior to the beginning of the lecture period and before the official start of the semester, all new students are invited to participate in a comprehensive and diverse programme of talks and events. Find out more about Heidelberg University, get tips and tricks to help you settle in at the start of semester, and make sure you've got everything you need to get to grips with studying!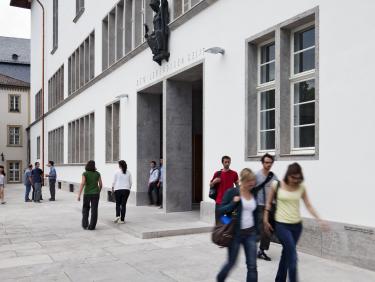 Please note:
All talks and events will be held in German.
Table
Welcome from the University Rector!
Students starting their course in the 2022/2023 winter term are invited to attend the Rector's welcome session in October 2022.

Welcome Day

We welcome you to your first semester at Heidelberg University with a wide range of offers. Visit the information booths, get your Welcome Library Bag, discover the university and take part in a personal campus tour.

Willkommen an der Universität Heidelberg: Tipps und Hinweise zum Studienstart

Schön, dass Sie da sind! In diesem Vortrag gewinnen Sie einen Überblick über die Universität, das Studium und wichtige Ansprechpartner*innen.
Erhalten Sie außerdem einige Tipps und Tricks für einen reibungslosen Start in Heidelberg.

Question and Answer Session for New Students
How does the semester ticket for public transport work? How do I take books out on loan? Which university cafeteria has the best coffee? With the help of an academic advisor and a Heidelberg student, we'll answer all of your questions about getting started in Heidelberg in this live question and answer session.

Studying Effectively as a New Student
In this online talk, one of the University's academic advisors gives helpful tips and explains psychological strategies to help you keep motivated and structure your learning effectively, so you'll be able to breeze through your studies.

Enrolled – Now What?
Who can help answer any other questions I have about studying in Heidelberg? What does Heidelberg University have to offer alongside my studies?

This online information session consists of three parts, and will provide you with general information about the most important university services (Student Administration, advisory services, libraries, University Computing Centre, Student Services Organisation etc.), student services (wifi access, university email address, student identity card, certificates, re-registration etc.), leisure activities coordinated by the University (university sports, language courses, events organised by the student services organisation etc.), and interest groups.

Polyvalent Bachelor's Degree Programme – Becoming a Teacher
Before the beginning of the lecture period, you will receive information about the structure of the Bachelor's degree programme for prospective teachers, tips on how to organise your studies and will have the opportunity to meet and talk to other first-semester students.

The University Library (UB) for Beginners - An Overview of Library Services
How do I register at the University Library and take books out on loan? How do I use the reading room at the University Library and how do I conduct effective research using the library catalogue (HEIDI)? The presentation will give you an overview of the most important library services and will point you towards supplementary assistance and courses.

Overcoming the Challenges of Studying
Starting university is time of great change. This presentation will highlight the key challenges of starting university and offers useful tips to help you get off to a good start in your studies at Heidelberg.

Möglichkeiten zur Studienfinanzierung
Wie finanziere ich mein Studium am besten? BAföG, Stipendium, Kredit oder Nebenjob? Dieser Vortrag bietet einen Überblick über die Möglichkeiten, erklärt in Kürze wie Sie BAföG beantragen können und hilft bei den verschiedenen Anforderungen nicht die Übersicht zu verlieren.

next date in SS 23

The most important URZ IT services for students
Uni-ID, eduroam, LSF, heiBOX, Moodle and much more - the University Computing Centre (URZ) offers a wide range of IT services for students. Many of these services are essential for succeeding in your studies and make everyday student life easier in many different ways. In this online tutorial, we will introduce the most important IT services for students, and you will also learn more about the contact points and support services offered by the URZ.

next date in SS 23

Inklusives Studieren

Wie kann ich erfolgreich trotz Behinderung oder chronischer Erkrankung studieren? Welche Angebote und Unterstützung gibt es?

 
Fitness programmes of heiMOVE and Univital
The fitness programmes of heiMOVE and Univital offer many ways of staying active when starting out at university. On our YouTube channel there are over 70 cost-free videos full of challenges and workouts, to name but a few. It is also worth taking a look at our websites – there you will find a large selection of sports and health-related options.
Get your Library Tote Bag
The popular library tote bags will be distributed free of charge at the start of the semester.
VERNETZEN SIE SICH ZUM STUDIENSTART
COMMUNITY – das ist das Campus-eigene Online-Tool auf Moodle: Mitmachen und unterstützen, netzwerken, informieren, treffen – you!
COMMUNITY fördert den lebendigen Austausch unter den Studierenden – und zwar fach- und semesterübergreifend. Über das Posten eines Beitrags in themenspezifischen Foren können Gleichgesinnte und Ansprechpartner*innen zu verschiedenen Themen gefunden werden. Über die in Moodle implementierte Nachrichtenfunktion kann dann direkt Kontakt aufgenommen werden.
Studying during Corona
Making new friends, and getting back into the lecture hall - these are things that due to the pandemic, are only possible to a limited degree for students in any academic semester. Online teaching has become the new normal. With the input of colleagues from the Central Student Advisory Office, we'll discuss ways to establish a routine, deal with challenges, and make the most of self-help strategies to ensure a successful course of studies during these extraordinary times.