Talks and events for new students
Talks and events for new students - summer semester 2023
In the two weeks prior to the beginning of the lecture period and before the official start of the semester, all new students are invited to participate in a comprehensive and diverse programme of talks and events. Find out more about Heidelberg University, get tips and tricks to help you settle in at the start of semester, and make sure you've got everything you need to get to grips with studying!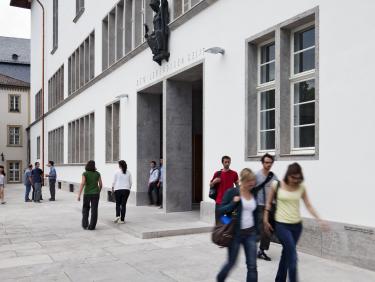 Please note:
All talks and events will be held in German.
Table
Welcome from the University Rector!
Students starting their course in the 2023 summer term are invited to attend the Rector's welcome session in October 2023.

Welcome Day

Students starting their studies in the 2023 summer term are cordially invited to attend the next welcome day in the 2023 winter term.

Willkommen an der Universität Heidelberg: Tipps und Hinweise zum Studienstart

Schön, dass Sie da sind! In diesem Vortrag gewinnen Sie einen Überblick über die Universität, das Studium und wichtige Ansprechpartner*innen.
Erhalten Sie außerdem einige Tipps und Tricks für einen reibungslosen Start in Heidelberg.

Tuesday, 4th April 2023,
2 pm - 3 pm,
Hörsaal 13, Neue Uni

 

Christoph Schlomach

Enrolled – Now What?
Who can help answer any other questions I have about studying in Heidelberg? What does Heidelberg University have to offer alongside my studies?

This online information session consists of three parts, and will provide you with general information about the most important university services (Student Administration, advisory services, libraries, University Computing Centre, Student Services Organisation etc.), student services (wifi access, university email address, student identity card, certificates, re-registration etc.), leisure activities coordinated by the University (university sports, language courses, events organised by the student services organisation etc.), and interest groups.

Tuesday, 11th April 2023,
1:30 pm - 2:30 pm,
Hörsaal 13, Neue Uni

Overcoming the Challenges of Studying
Starting university is time of great change. This presentation will highlight the key challenges of starting university and offers useful tips to help you get off to a good start in your studies at Heidelberg.

Thursday, 6th April 2023,
2 pm - 3 pm,
Hörsaal 13, Neue Uni

 

Dr. phil. Frank-Hagen Hofmann
Get your Library Tote Bag
The popular library tote bags will be distributed free of charge at the start of the semester.
Fitness programmes of heiMOVE and Univital
The fitness programmes of heiMOVE and Univital offer many ways of staying active when starting out at university. On our YouTube channel there are over 70 cost-free videos full of challenges and workouts, to name but a few. It is also worth taking a look at our websites – there you will find a large selection of sports and health-related options.
Studying during Corona
Making new friends, and getting back into the lecture hall - these are things that due to the pandemic, are only possible to a limited degree for students in any academic semester. Online teaching has become the new normal. With the input of colleagues from the Central Student Advisory Office, we'll discuss ways to establish a routine, deal with challenges, and make the most of self-help strategies to ensure a successful course of studies during these extraordinary times.