Talks and events for new students
Talks and events for new students - summer semester 2022
In the two weeks prior to the beginning of the lecture period and before the official start of the semester, all new students are invited to participate in a comprehensive and diverse programme of talks and events. Find out more about Heidelberg University, get tips and tricks to help you settle in at the start of semester, and make sure you've got everything you need to get to grips with studying!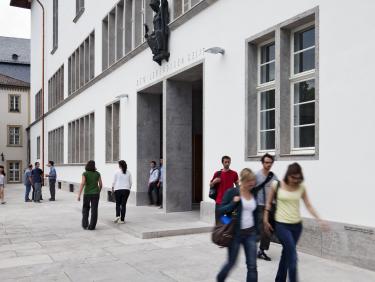 Please note:
All talks and events will be held in German.
WELCOME FROM THE UNIVERSITY RECTOR!
Table
| | |
| --- | --- |
| Students starting their course in the 2022 summer semester are invited to attend the Rector's welcome session and the semester opening fair that marks the start of the winter semester in October 2022. |   |
Question and Answer Session for New Students
Table
How does the semester ticket for public transport work? How do I take books out on loan? Which university cafeteria has the best coffee? With the help of an academic advisor and a Heidelberg student, we'll answer all of your questions about getting started in Heidelberg in this live question and answer session.

Wednesday, 6th April 2022,
11 am - 12 pm

Dr. Carina Tuchan

 

Wednesday, 13th April 2022,
12 pm - 1 pm

Sabine Felkel

 
Studying Effectively as a New Student
Table
In this online talk, one of the University's academic advisors gives helpful tips and explains psychological strategies to help you keep motivated and structure your learning effectively, so you'll be able to breeze through your studies.

Monday, 11th April 2022,
10 am - 11 am

Nathalie Blome

 
Table
Who can help answer any other questions I have about studying in Heidelberg? What does Heidelberg University have to offer alongside my studies?

This online information session consists of three parts, and will provide you with general information about the most important university services (Student Administration, advisory services, libraries, University Computing Centre, Student Services Organisation etc.), student services (wifi access, university email address, student identity card, certificates, re-registration etc.), leisure activities coordinated by the University (university sports, language courses, events organised by the student services organisation etc.), and interest groups.

Wednesday, 13th April 2022,
1 pm - 2 pm

Student advisory office

 
POLYVALENT BACHELOR'S DEGREE PROGRAMME – BECOMING A TEACHER
Table
Before the beginning of the lecture period, you will receive information about the structure of the Bachelor's degree programme for prospective teachers, tips on how to organise your studies and will have the opportunity to meet and talk to other first-semester students.

Tuesday, 5th April 2022,
3 pm - 4 pm

Susanne Kemmer

 
The University Library (UB) for Beginners - An Overview of Library Services
Table
How do I register at the University Library and take books out on loan? How do I use the reading room at the University Library and how do I conduct effective research using the library catalogue (HEIDI)? The presentation will give you an overview of the most important library services and will point you towards supplementary assistance and courses.

Tuesday, 12th April 2022,
10:00 am - 10:45 am

Dr. Martin Nissen

 
Overcoming the Challenges of Studying
Table
Starting university is time of great change. This presentation will highlight the key challenges of starting university and offers useful tips to help you get off to a good start in your studies at Heidelberg.

Wednesday, 13th April 2022,
3 pm - 4 pm

Dr. Frank-Hagen Hofmann

 
The most important URZ IT services for students
Table
| | | |
| --- | --- | --- |
| Uni-ID, eduroam, LSF, heiBOX, Moodle and much more - the University Computing Centre (URZ) offers a wide range of IT services for students. Many of these services are essential for succeeding in your studies and make everyday student life easier in many different ways. In this online tutorial, we will introduce the most important IT services for students, and you will also learn more about the contact points and support services offered by the URZ. | |   |
STUDYING EFFECTIVELY - THAT'S WHAT COUNTS!
Table
Looking forward: strategies for navigating uncertain times

How can I learn to cope with uncertainty? How can I develop sustainable behaviours that help me keep calm? This presentation will offer tips to help you cope with uncertainty and strengthen your resilience and self-efficacy.

Sabine Felkel, Dipl.-Psych.
Student advisory office

Monday, 4th April 2022
12 pm - 1 pm

 

Build a routine for successful study

How do I get into a good routine and structure my day effectively? How do I organise and motivate myself? How do I connect with others if there aren't any in-person courses and lectures? How can I make the most of the advantages of online learning? This online presentation provides you with tips and tricks to help you optimise your (online) semester.

Sabine Felkel, Dipl.-Psych.
Student advisory office

Tuesday, 3rd May 2022
1 pm - 2 pm

 

Get some exercise – particularly in your (online) study course

This presentation will talk about ways and means of getting sufficient physical exercise, specifically in a hybrid study format. It will show how an "active break" can enhance concentration and receptivity and also make you feel better.

next date in WiSe 22/23

 

In control in online classes: keeping confident and quick-witted at a video conference

Do you feel uncomfortable in video conferences and hesitate although you would like to say something? Should you turn on your camera although most of the others have turned theirs off? And what if you are struck dumb by someone's silly remark? In this presentation you will learn how you can best prepare yourself for these situations and stay cool throughout the video call.

Nathalie Blome,
M.Sc. Psychology
Student advisory office

Monday, 25th April 2022
11 am - 12 pm

 

Take it easy – keeping calm as a perfectionist

Is your paper almost done but you keep finding another sentence to rewrite? Is this the hundredth time that you have checked the slides for your presentation? Do you struggle to let go and complete a task?
In this lecture, we will take a closer look at "perfectionism" and its effects on various areas of your life. We will also give you suggestions on how to deal with expectations for yourself in everyday life.

Nathalie Blome, M. Sc. Psychology
Student advisory office

Monday, 11th July 2022
10 am - 11 am

 

Mental Balance in Stressful Times

What can I do if I am constantly stressed and even the smallest things upset me? Or if I struggle to wind down after a hard day?
In this lecture, you will learn where stress comes from, identify and analyse your personal stressors and learn how to interrupt and positively influence the stress cycle - so that you can regain your balance

Kay Luisa Lendermann, M.Sc. Psychology
Student advisory office

Wednesday, 27th April 2022
4 pm - 5 pm

 

Pre-examination nerves? Keeping calm before the examination

Does it sound familiar? Your exam is about to begin and you notice: moist hands, a faster heartbeat, flatter breathing – symptoms of pre-examination nerves. This presentation will take a closer look at that phenomenon. You will learn what suffering from pre-examination anxiety means and how you can prevent it. We will also give some last-minute tips for dealing with it before an exam.

Kay Luisa Lendermann, M.Sc. Psychology
Student advisory office

Wednesday, 23rd March 2022
13:30 - 14:30 Uhr

 
Fitness programmes of heiMOVE and Univital
The fitness programmes of heiMOVE and Univital offer many ways of staying active when starting out at university. On our YouTube channel there are over 70 cost-free videos full of challenges and workouts, to name but a few. It is also worth taking a look at our websites – there you will find a large selection of sports and health-related options.
Studying during Corona
Making new friends, and getting back into the lecture hall - these are things that due to the pandemic, are only possible to a limited degree for students in any academic semester. Online teaching has become the new normal. With the input of colleagues from the Central Student Advisory Office, we'll discuss ways to establish a routine, deal with challenges, and make the most of self-help strategies to ensure a successful course of studies during these extraordinary times.
Get your Library Tote Bag