Research Tandems
"Cultural Landscape" as a Resource for Social Innovation.
A Contribution to the (Re)vitalization of Marginal Regions.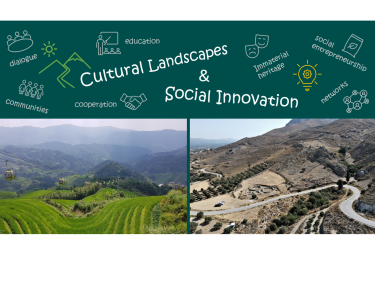 Can cultural heritage provide a starting point for social change? This seemingly contradictory proposition well encapsulates the scope and focus of this interdisciplinary tandem project on the (re)activation of cultural landscapes in marginal regions. As per definition, cultural landscapes shape and are shaped by the close interaction of humans with their environment. As an impact area and habitat, a cultural landscape is subject to a wide variety of socio-economic changes that exert a lasting influence on its very character. Both landscape overexploitation and conservation efforts aimed at preserving the landscape as unaltered as possible ("museumification") not seldom have destructive effects on local eco- and cultural systems. These include the loss of biodiversity, the deterioration of historical buildings, the disintegration of community networks, and the decline of spiritual traditions and artisanal craftsmanship. Dealing with the historical and cultural heritage embedded in these landscapes – as well as their social realities – continues to pose major challenges to policy makers, scientists, and the local population alike; this is notably true of marginal regions.
Building on an understanding of cultural landscape as a polyvalent space, this interdisciplinary research tandem seeks to investigate if and to what extent tangible and intangible heritage assets can be harnessed as a resource for social innovation. Special emphasis is placed on empowerment of local communities and the selective promotion of local/indigenous knowledge for sustainable regional development. The project team draws on several case studies to contrast the revitalization of "inactive" archaeological landscapes in the Mediterranean region with the valorization of "active" terraced agricultural landscapes in southwestern China. In order to isolate the factors accounting for functional and transformative processes of innovation, the study considers not only cooperation but also conflicts between a variety of actors/stakeholders.
The following areas of innovation are of particular relevance for the project:
utilization of local/indigenous knowledge for the conservation of cultural diversity and biodiversity;
development of new and innovative product ideas with a transformative potential;
change of regulations and legal provisions (e.g. recognition of customary law, non-standard legal entities, divergent legal views);
initiation of new networks for local collaboration and cooperation (e.g. agricultural cooperatives which produce and market agricultural products for touristic purposes);
fostering of social integration/inclusion (e.g. greater openness to community participation).
By investigation of the above areas, the project partners of this research tandem seek to gain new insights on specific characteristics of actors and conditions that enable social innovation in cultural landscapes. A primary focus is set on those mechanisms and variables that can unleash the innovation potential of heritage in cultural landscapes, thus contributing to a more community-oriented model of development and use.