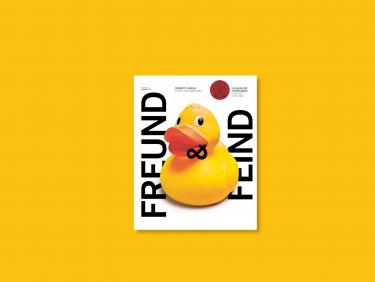 DEAR READERS OF RUPERTO CAROLA,
Your friends will claim to be sincere, your enemies are." This quote by Arthur Schopenhauer shows us two highly complex and emotionally charged terms reflected in a distorting mirror. Individuals, like groups and nations, can be linked by friendship or enmity. In nature, completely different organisms coexist peacefully and to their mutual benefit – or destroy each other. In the human body, cells can degenerate, turn malignant and become our enemy – only to be attacked by hostile killer cells that ultimately help the body heal itself. In human relationships, as in medicine and biology, relationships can change: friendship is not always entirely positive, nor enmity entirely negative.
FRIEND & FOE – that is the central subject of this 17th edition of our RUPERTO CAROLA research journal, in which scientists and scholars of Heidelberg University introduce readers to their latest research projects. Their work covers many facets of this subject, including the question of how vitally important proteins in the human body can turn from friends to enemies, the different phases of German-American friendship, and the ways of expressing hostility in musical compositions.
I would like to thank all of our authors for offering us a glimpse into the dynamic research at our University, and wish all of our readers an enlightening and entertaining reading experience.
Prof. Dr Dr h.c. Bernhard Eitel
Rector of Heidelberg University