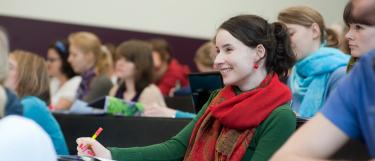 Welcome to the heiSKILLS Competencies & Language Centre at Heidelberg University
heiSKILLS has ongoing and varied opportunities for the acquisition of teaching and learning competencies, professional know-how, foreign languages, additional qualifications and certificates. Our course and counseling offers assist you in your studies and career and provide professional support in your orientation, qualification, and continued education.
Together, we can develop and sharpen your qualification profile in an individual and focused manner.
Through the links below you will find the offers, contact information and additional information about our four departments.
Career Service offers students, graduates and doctoral candidates a wide range of events and counseling. These offers provide valuable guidance for a successful start into a career during or after your studies.
DEPARTMENT FOR TEACHING AND LEARNING
The Department for Teaching and Learning serves students as well as teaching professionals at the university. For these groups, seminars, counseling and self-access materials related to skills for successful university study as well as didactic skills for effective teaching are offered. Advising faculties and institutes on (further) didactic development of their study programs is a key feature of what we do.
DEPARTMENT FOR FOREIGN LANGUAGES
Foreign Languages, Intercultural Communication and Speech Education/Speech Science
The Department for Foreign Languages (ZSL) at Heidelberg University offers students, university employees and the general public the opportunity to acquire or expand foreign language skills in numerous languages. The department also offers custom-designed courses for language skills in specific disciplines. Additionally, through the administration of internationally recognized language certificates, ZSL also provides the possibility to certify acquired knowledge. Courses in the fields of speech science and intercultural communication round out ZSL offerings.
SCIENTIFIC TRAINING AND LIFELONG LEARNING
In close cooperation with institutes and other academic units of the university, the Scientific Training department designs and implements subject-related continuing education programs for university graduates with (initial) professional experience. Goal is the interdisciplinary transfer of knowledge from research to practice, and the related promotion of social progress and realization of lifelong learning.
heiSKILLS certificates enable you to expand your individual qualification profile alongside your studies, to delve into subject areas that are complementary to your studies or open up new ones. Additionally, you can certify the expertise you have acquired for future professional and occupational contexts. 
Our range of programs offers you a variety of thematic specialization options. The modular structure of the individual certificates allows you to pursue your own focus in a targeted manner. 
 heiSKILLS certificates
are aimed at a variety of target groups;
can be acquired in different learning and life phases;
are developed and offered by heiSKILLS directly or by cooperating university departments, institutions and faculties.
 We hope we have peaked your interest! 
You can find out more about content and formalities of our current certificates here: